Uni-Android Tool [UAT] FRP MODULE 10.02 Released – 4th July 2019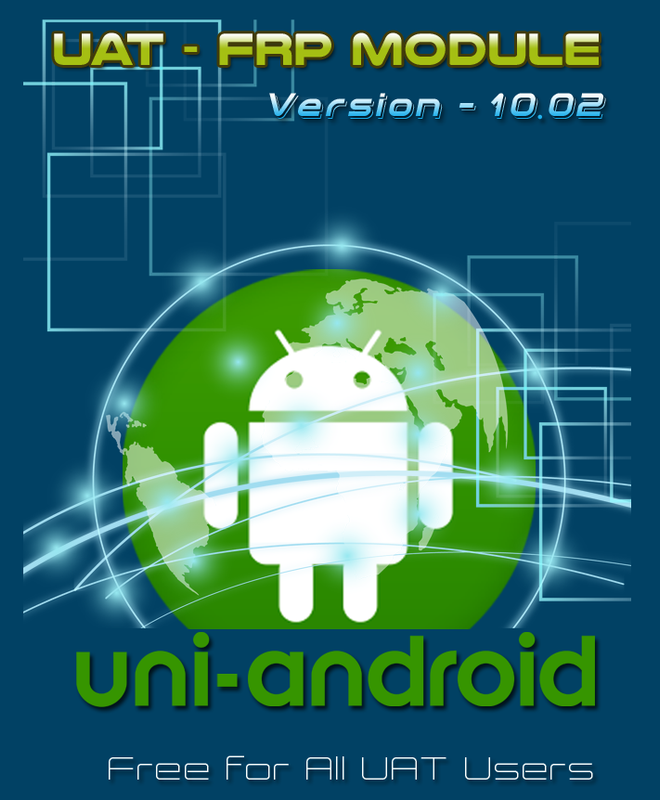 UAT FRP MODULE – Version : 10.02
Release Notes:
Added New Models
Asus ZenFone Max (M1) ZB556KL (X00PD)
Asus Zenfone Selfie ZD550KL
Asus X00RD (zenfone Lite L1 ZA551KL)
Coolpad F1 plus
Lenovo K10e70
Lenovo K3 Lemon K30-E
Lenovo K3 Lemon K30-T
Lenovo K3 Lemon K31-T3
Lenovo K3 Lemon K30-TM
Lenovo K3 Lemon K30-W
Lenovo TB-8703X (Tab3 8 Plus)
Lenovo TB-8704F (Tab 4 Plus)
Lenovo TB-8504X Tab 4 8
Lenovo S60-A
Lenovo S60-T
Lenovo S60-W
Lenovo S580
Lenovo S856
Lenovo S90-A
Lenovo S90-E
Lenovo S90-T
Lenovo S90-U
Blu Studio 7.0 S0010UU
Blu Studio G S0030UU
Micromax YU5040 (Yureka Black)
Micromax Q469 (Canvas Play 4G)
LG H819
LG H815
Hisense HS-E76
Hisense HS-E76 Mini
Hisense HS-F26
Gionee M7 Power
Gionee S10 Lite
Panasonic Eluga Mark
Panasonic P95 EB-90S50P95B
Xiaomi Mi A2 Lite
Xiaomi Mi 8 Lite
ZTE Blade Force N9517
ZTE Blade S6 Plus
ZTE Blade S7 T920
ZTE Blade V8Q V0840
ZTE Nubia Z9 NX508J
ZTE Nubia Z11 NX531J
ZTE Tempo Go N9137
ZTE V5 Pro N9339St
Auto Detect Device Method have been more Improved.
WARNING : IMEI Changing is illegal in Most of Countries. IMEI Repair is Intended to Repair IMEI to its Original IMEI Written in Phone Back .
We are not responsible for any Problem caused by mis-using this Function. User will be Sole Responsible for any illegal Activity done by using this Function.
No Box , No Dongle , No Tension of any Hardware Damage or any Driver Installations.
No need of waiting for any Shipping or any Stock availability, Just Download ,get Register and buy Activation.

FTP Support Area

-: Buy Now | Official Website :-
Uni-Android Tool – Multi Platform Android Tool

-: Official Support : –
Official Indian Support forum :- Uni-Android Tool Support Forum
Offical Turkey Support Forum :- www.gsmkolik.com


-: Official Resellers :-
Distributors and Resellers Lists



-: Official Support Group and News Channel :-