Uni-Android Tool [UAT] FRP MODULE 2.02 Released – 23rd July 2018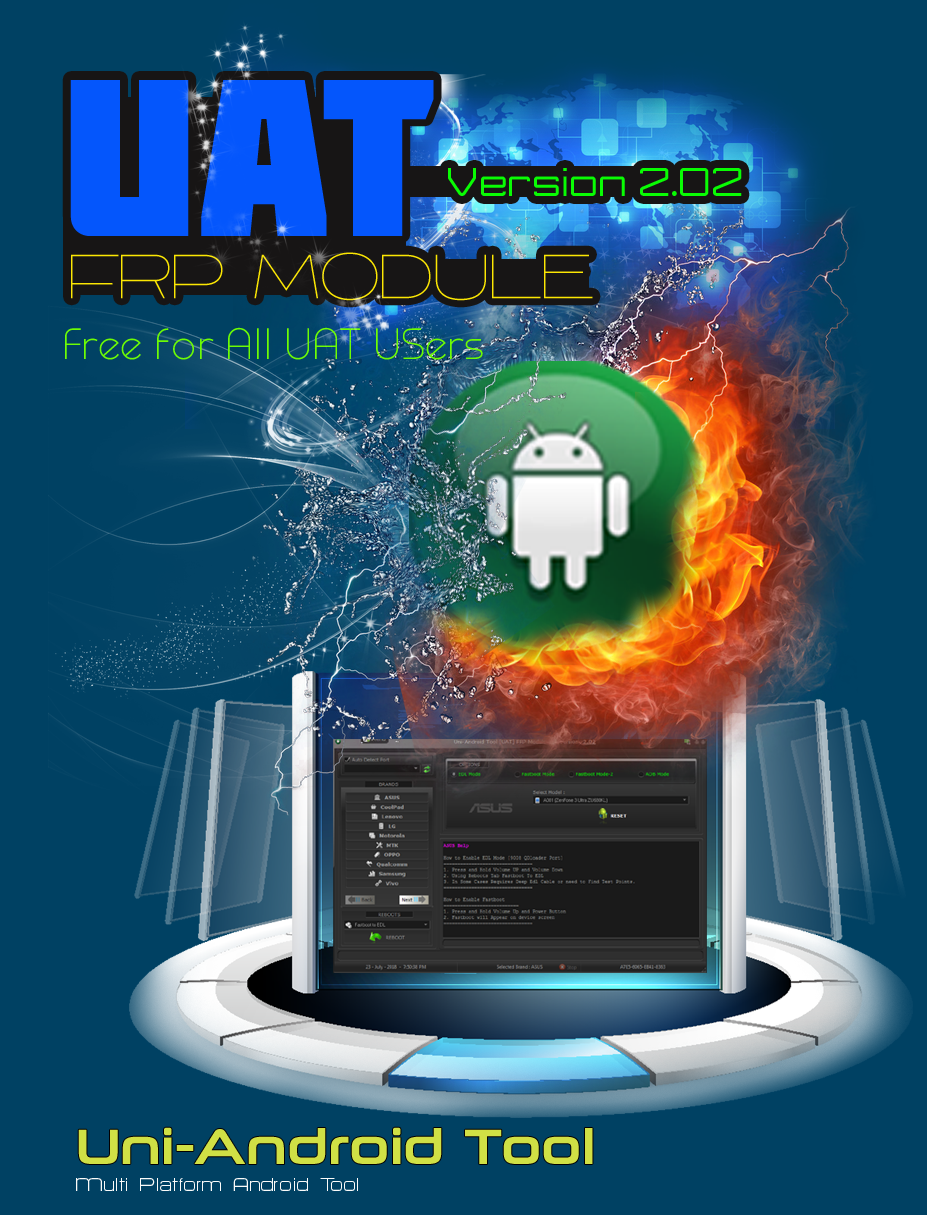 What is New :
HUAWEI
Added More Models for Offline FRP RESET

1. MTP Mode
2. ADB Mode
HOLLY 4 PLUS
Honor Play
Honor V10
Honor View 10
Nova 2i L02
Nova 2i L22
Mate 10 Lite L21
MediaPad T3 10 AGS-L09
MediaPad T3 10 AGS-L03
MediaPad T3 10 AGS-W09
Y6 2018
Y7 2018 LDN-LX3
Y7 2018 London LDN-L03
Y7 Prime
Y7 Prime TRT-L53
Y7 Prime TRT-TL00
New Model List for A B C D E F'con Team for Copy Paste
You will see Same Models List in their another Update
SAMSUNG
Added Models for FRP RESET
1. Download Mode
2. ADB Mode


WARNING : IMEI Changing is illegal in Most of Countries. IMEI Repair is Intended to Repair IMEI to its Original IMEI Written in Phone Back .
We are not responsible for any Problem caused by mis-using this Function. User will be Sole Responsible for any illegal Activity done by using this Function.
No Box , No Dongle , No Tension of any Hardware Damage or any Driver Installations.
No need of waiting for any Shipping or any Stock availability, Just Download ,get Register and buy Activation.



FTP Support Area
FRP Module Supported Models
-: Buy Now | Official Website :-
Uni-Android Tool – Multi Platform Android Tool
-: Official Support : –
Official Indian Support forum :- Uni-Android Tool Support Forum
Offical Turkey Support Forum :- www.gsmkolik.com
-: Official Resellers :-
Distributors and Resellers Lists


-: Official Support Group and News Channel :-